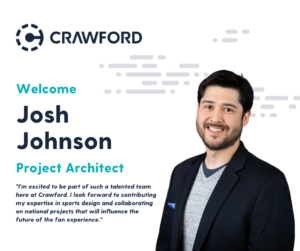 Get to Know Josh Johnson:
Education: Bachelor of Architecture, University of Kansas
Years of Experience: 16+
Certifications/Credentials: Registered Architect- Kansas, AIA, NCARB, LEED AP
Q&A:
What is your favorite project you've worked on to date? "Levi Stadium was my first project out of school and the first project I got to see completed. Watching what I put on paper turn into a building for the first time was inspiring.
What aspects of sports architecture do you enjoy most? "Seeing what venues can do for the fan experience."
What is your favorite part of the design process? "Collaborating with the design team. It is really cool to look back at all the friendships and connections I have made from working on the projects that brought us together."
What excites you about working at Crawford? "Crawford is a great firm to become a more well-rounded architect. They do not pigeonhole employees into one aspect of the design process and really emphasize collaboration to their core. It is an opportunity for me to become a multifaced architect and get to work on some incredible projects."
Who inspires you? "My family."
Tell us about your family. "I have been married to my wife for 10 years and we have two daughters. I love being a girl dad. We also have a dog."
What is your favorite food? "Pepperoni Pizza from Dewey's."
What activities do you enjoy outside of the office? "Golf, drawing, and playing with my kids."
What is the best career advice you have received? "Always make sure you know your value at any point in your career."