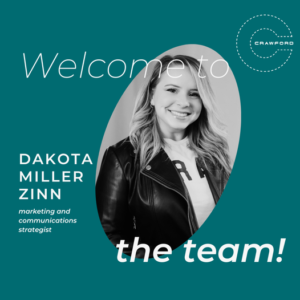 We're excited to announce Dakota Miller Zinn has joined the Crawford team leading our marketing and communication efforts! Dakota is from the Kansas City area and studied sports media and strategic communications at @okstate. Her professional experience ranges from content development for MLB to  strategic marketing and branding for firms in sports, healthcare, entertainment, construction, retail, finance, and architecture. Whether it's preparing proposals and presentations, leading social media and public relations efforts, or developing key relationships, Dakota brings a fresh and innovative approach to her work.
In her free time, she enjoys watching sports, cooking, being on the lake, jammin' out to 90's music, and spending time with her husband, two step-sons, and new baby girl.
Welcome to the team, Dakota!