JLL, with Crawford Architects, takes on "The Biggest Long Island Development in Half a Century". 
News is buzzing about the $2.8 billion project that has recently received key endorsements from the Long Island Regional Planning Council.
Crawford currently serves as the Master Plan Architect and Urban Designer, helping develop all aspects of the plan layout.

For more on this project, check out the press release and related articles below:
Ronkonkoma, May 12 2022: The Long Island Regional Planning Council, the region's leading planning body, designated JLL's proposed Midway Crossing development a "Project of Regional Significance" Thursday. The council's designation underscores the economic viability, environmental sustainability and transformational nature of Midway Crossing – a $2.8 billion project being developed in a public-private partnership between the Town of Islip, Suffolk County and JLL.
Historic in size, scope and breadth, the 2.7-million-square-foot development's medical research, health-care, hotel and convention center, sports, entertainment and retail components make Midway Crossing Long Island's most important project in half a century. Located in Ronkonkoma in the Town of Islip, Midway Crossing also would create an intermodal, transportation-oriented hub, modernizing and moving Long Island MacArthur Airport's terminal to the property's north side.
The airport and the Ronkonkoma LIRR Station would be connected via a walkable 1,800-foot corridor, with Midway Crossing's elements occupying 179 acres of under-used and undeveloped land mostly owned by the town and the county. A true "train-to-plane solution," Midway Crossing leverages $15 billion-plus in investments in the MTA's East Side Access and Main Line Expansion projects to allow millions of New Yorkers to smoothly travel between New York City and the airport.
A new top-flight hotel and convention center would fill a regional hospitality void, facilitating local tourism, including for those enjoying sports and entertainment options. Midway Crossing is poised to produce unprecedented economic benefits. They include a $4.5 billion total recurring annual economic impact upon full build out, with $2.7 billion coming from all project elements, except the airport, and $1.8 billion derived from airport improvements and associated tourism benefits and jobs.
Critically, Midway Crossing would help Long Island retain the two out of three young people, who say they plan to leave in the next five years due to a lack of good-paying jobs, according to Suffolk County. A total of 9,300 career-track positions (5,500 primary and 3,800 secondary) would be created, including 4,300 careers in the STEM and health-care fields. And, during all phases of construction and development, Midway Crossing would yield a $1.95 billion total economic impact, while employing 14,500 individuals, the development partners estimate.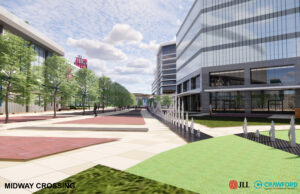 Beyond its economic and tourism benefits, the project is a prototype for public sector investment, with a strong private-public partnership ideal for facilitating local and federal infrastructure funding. With Midway Crossing, JLL, Islip and Suffolk County are promoting smart, sustainable development, alleviating decades of sprawl-like growth with a new transit hub and major infrastructure upgrades.
Midway Crossing's modern technology would time trains, flights and traffic to reduce congestion, and it would be complemented by EV charging stations and bicycle infrastructure. An exciting new partnership between JLL and Siemens would create a microgrid to generate most of the site and the airport's electricity from sustainable sources by 2030, and JLL is committed to a net-zero carbon footprint by 2040.
"Midway Crossing is a forward-thinking, public-private endeavor, which will be transformative not only in connecting the Long Island Railroad to MacArthur Airport,  but in establishing the very center of Long Island as a preferred destination for business and relaxation," stated Edward Wehrheim, supervisor of the Town of Smithtown and a board member for the LIRPC. "This redevelopment builds upon the great progress already underway in energizing and reviving the Ronkonkoma hub with a housing and retail economy, and most significantly the project will create thousands of jobs for the people of Long Island."

"Today's vote by the council is an important step toward super-charging Long Island's already strong economy, with a state-of-the-art medical research, health-care, hospitality, sports and entertainment development built around a transit hub ideally situated in the middle of Long Island," said Derek Trulson, a vice chairman at JLL New York. "JLL looks forward to continuing its partnership with the town, the county and other stakeholders throughout the development process."
The Long Island Regional Planning Council's endorsement comes on the heels of local officials and business leaders issuing statements in support of Midway Crossing, including the Suffolk Supervisors Association, which recently released its letter of strong endorsement to Sen. Charles Schumer.
"This transformational project would benefit residents across all 10 of our towns, and bring an increase in tourism, business, and educational opportunities and advances to our region," the local leaders wrote in a joint letter signed by Islip Town Supervisor Angie Carpenter, Brookhaven Supervisor Edward Romaine, Babylon Supervisor Rich Schaffer, Huntington Supervisor Edmund Smyth, Smithtown Supervisor Edward Wehrheim, Riverhead Supervisor Yvette Aguiar, Southampton Supervisor Jay Schneiderman and Southold Supervisor Scott Russell. "We believe Midway Crossing's leveraging of existing and regional assets will serve as an economic boon to all of Long Island and the State of New York."
Other regional and local leaders also praised Midway Crossing on Thursday.
"We need to think big for our future, and Midway Crossing does just that – it is a collaborative public-private partnership that maximizes the potential of Long Island MacArthur Airport and the nearby LIRR train station and creates a true destination that includes new commercial opportunities to replace what is mostly asphalt right now," said Matt Cohen, president and CEO of the Long Island Association. "This is a game changer that will create new jobs, spur economic growth and attract young professionals and businesses."
"Midway Crossing holds irresistible promise as a diverse, multi-faceted investment in Long Island's future. It will generate valuable amenities for Long Islanders – especially young professionals – for generations to come," said Terri Alessi-Miceli, president and CEO of HIA-LI.  "HIA-LI is fully supportive of this visionary initiative that enhances the 'live, work, play' value of the bi-county region."
"For too long, Long Island has been talking about creating two major infrastructure projects, the construction of a convention center and the movement of the MacArthur Airport terminal to the north side of the airport next to the Ronkonkoma train station," said Mitchell H. Pally, Chief Executive Officer of the Long Island Builders Institute.  "Midway Crossing includes both of these very important projects as well as major advances in medical and technology offices. We strongly support this initiative, which will provide a tremendous benefit to the community and supplement the major investments made by the MTA for both the second track and third track projects."
"We build transportation networks to encourage and support developments like the Midway Crossing project," said Phil Eng, former president of the Long Island Rail Road. "With the completion of the Ronkonkoma double track project and the third track and Eastside Access projects coming online, as the former president of the LIRR, I can say that Midway Crossing is exactly what we want to see – a transformative development that creates opportunities and jobs and makes Long Island a destination to work, live and play.  Ronkonkoma, the airport, the train station and now this project make it the gateway to Long Island."
"I've only been a Long Islander for almost 40 years," said Pat Lafontaine, a former New York Islander, a hockey Hall of Fame member and an advisor to JLL on the Midway Crossing project. "But during that time, I have come to appreciate the transportation access, the health-care and life sciences facilities, the medical research centers, the family entertainment options and the passion of the residents. The challenge has been that all of these resources were fragmented – until today! Midway Crossing is being put together like a championship team by a championship team. It leverages infrastructure investments that have already been made and turns the heart of Long Island into a model for the rest of America."
"For 50 years, Long Islanders have been inconvenienced because of poor planning, which failed to connect Long Island MacArthur Airport and the Long Island Railroad's Ronkonkoma Station," said Joe Campolo, managing partner of Campolo, Middleton & McCormick, LLP and chair of the HIA-LI Economic Development Committee. "Now, we finally have the time and opportunity to correct that mistake and connect the two hubs. Doing so will not only create the robust economic development that is so critical to Long Island's economy but will also finally bring Long Island's mass transit system into the modern era."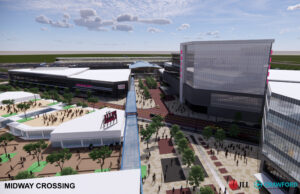 About JLL
JLL (NYSE: JLL) is a leading professional services firm specializing in real estate and investment management and a Fortune 500 firm with annual revenues of $18 billion as of 2019, a global workforce of 93,000 as of June 2020, and operations in 80-plus countries. JLL shapes the future of real estate for a better world by using the most advanced technology to create rewarding opportunities, amazing spaces and sustainable real estate solutions for its clients, people and communities. JLL is the brand name and a registered trademark of Jones Lang LaSalle Inc. To learn more, visit jll.com.
About Crawford Architects: Crawford Architects is an award-winning international planning, architecture, and interior design firm headquartered in Kansas City. As a professional services firm, Crawford Architects specializes in all aspects of the planning and design of stadiums, arenas, athletic training centers, sports medicine facilities, entertainment venues, lifestyle & workplace facilities, and the mixed-use developments which accompany these projects. Learn more at crawfordarch.com.
---

Other related articles:
https://commercialobserver.com/2022/05/jlls-midway-crossing-project-boosts-long-island-life-sciences-sector/
https://greaterlongisland.com/2-8-billion-midway-crossing-project-to-revitalize-ronkonkoma-and-central-suffolk/
https://www.newsday.com/opinion/editorials/midway-crossing-ronkonkoma-hub-macarthur-airport-ijy7ye2r

CONTACT:
Crawford Architects
1801 McGee Street Suite 200
Kansas City, MO 64108
Gerry Rodrigues
grodrigues@crawford-usa.com
JLL PR (Shea Communications)
George Shea, Daniel Axelrod
daxelrod@sheacommunications.com