FOR IMMEDIATE RELEASE
The People's Firm: Crawford Architects Becomes an Employee-Owned Company
Kansas City, July 11th, 2022: Crawford Architects is proud to announce it has become an employee-owned firm after launching an Employee Stock Ownership Plan (ESOP) in April this year.
An ESOP is a qualified retirement plan and invests company contributions into stock that is held in a trust for the benefit of plan participants. Transferring ownership to eligible team members, regardless of title, was always a part of the vision for previous owners, David Murphy, and Stacey Jones.
"Since our inception, Crawford Architects has served our clients with the highest levels of service and a commitment to design excellence," said David Murphy, founder and senior principal of Crawford. "Sharing this success with our employees through the creation of an ESOP reflects Crawford Architects' values of inclusion, collaboration, and shared success. Our clients will continue to work with vested owners committed to their success long after the firm's founders retire."
Founded in 2001, Crawford started US operations in Kansas City with just three employees, and, over the past 20 years, it has grown into an influential design and advisory firm working from six office locations around the world. Much of Crawford's success can be contributed to its employees who are the backbone of the firm.
"We believe that shared ownership promotes a collaborative culture when it comes to the continued success of our firm, said Stacey Jones, founder and senior principal of Crawford. "Being part of an ESOP means when Crawford does well, our employees do too! The structure of our ESOP will empower our team to provide exceptional service and innovative solutions which will positively impact our clients and partners."
The decision to move to an employee-owned company follows the celebration of 20 years in business and the restructuring and promotion of leadership positions at Crawford.
"I believe we are operating at our best potential when we are being the most inclusive, open minded to any and all ideas having relevance at concept," said Doug Osborn, Crawford principal. "I think that the ESOP allows that same principle to be applied to the operations and decision making of the company; everyone will have the opportunity to contribute to the successes of the firm and likewise can be rewarded for their hard work, reliability, and dedication."
###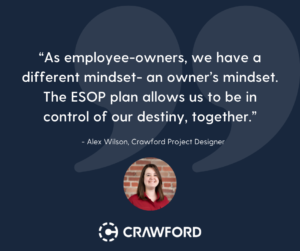 CONTACT:
Crawford Architects
1801 McGee Street Suite 200
Kansas City, MO 64108
Dakota Miller Zinn
dmillerzinn@crawford-usa.com