Crawford in the News:
Northern exposure: Indoor facilities almost a necessity for Bison, Jacks in reaching FCS title game
Matchup of North Dakota State vs. South Dakota State features two northern teams meeting for the championship
Posted: December 31, 2022 07:30 AM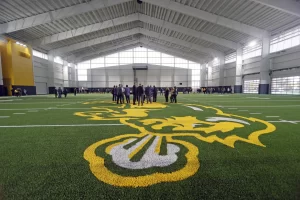 FARGO — A winter storm preceded North Dakota State in its Division I FCS semifinal game last month. South Dakota State played on artificial turf that doubled as a skating rink in its semifinal win over Montana State.
But in a matchup of the third most northern teams in the history of the FCS national championship game, outdoor elements are not part of the way they do business during the week. Both SDSU and NDSU have two of the best indoor practice facilities in the FCS and perhaps rank up there with most in the country, including FBS.
It's probably not a coincidence they're meeting at 1 p.m. Sunday, Jan. 8, at Toyota Stadium in Frisco, Texas. Practicing outside in November and December in Fargo or Brookings can be hazardous to your health.
Moreover, both programs are proving that investment in facilities is a big deal in reaching a national title game. NDSU and Eastern Washington in 2018 have the FCS standard for the two most northern teams in a title game, just ahead of NDSU and Montana State last year. But EWU and the Bobcats don't have modern indoor practice space.
"It's infinite," said SDSU head coach John Stiegelmeier. "Exponential."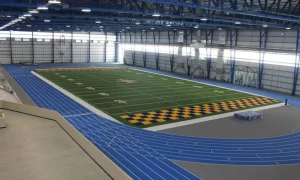 NDSU moved into its new Nodak Insurance Football Performance Complex in October. The Bison have Gate City Bank Field at the Fargodome, but that wouldn't have been an option last week with the building booked for events like the Rumble on the Red wrestling championships.
"Last week I wouldn't have wanted to imagine it, but we would have found a way I guess," NDSU head coach Matt Entz said of the thought of practicing without an indoor facility. "It would have been quite unique. It would have created some logistical nightmares."
Former Bison head coach Craig Bohl knew all about those nightmares. NDSU didn't realize the value of an indoor facility until it first made the FCS playoffs in 2010, having to prepare for a second-round game at Montana State in a blizzard one day. Until the indoor bubble was built over Dacotah Field in 2014, the Bison used a former golf dome in south Fargo on occasion when the Fargodome wasn't available.
The second phase of the current $54 million football complex will be completed in the spring. When finished, it will trump all other FCS indoor practice venues with amenities like a new weight room, locker room, offices, recruiting room and athletic training space.
"We talk about that all the time in the locker room," said Bison quarterback Cam Miller. "We're blessed and fortunate to have such a great facility over there."
Before the Sanford-Jackrabbit Athletic Complex, when the weather got bad, the Jackrabbits used to go to a convention hall called the Swiftel Center, glossy floor and all, or the Fifth Street Gym where only half the team could practice at one time.
Because of his experience, Stiegelmeier doesn't take the present facility for granted. It opened in 2014 at a cost of $32 million. It's 80 yards long instead of the traditional 100 because of an indoor track, but it's effective, nonetheless.
"When I walk in there because of what I've been through or seen," Stiegelmeier said, "I thank the Lord all the time. Our players don't know that but we get a ton done."
SDSU players also have unlimited access to the facility, with their school identification cards also doubling as key cards for entry.
"So they can go in there anytime of the day, run around or stretch or run routes or do whatever with their buddies so that's pretty cool also," Stiegelmeier said.
Both teams will practice on campus until next flying to Dallas and bussing north to the suburb of Frisco on Thursday. The high temperatures in Fargo on Sunday are expected to be in the mid-teens and drop to a high in single digits by Wednesday.
Highs in Brookings are expected to be a few degrees warmer with a high on Wednesday of 11 degrees. Not only that, neither school has to clear snow from an outdoor field.
"You don't have to practice in 15-degree weather and wind and then go down to Frisco," said SDSU offensive lineman Mason McCormick. "It's nice to be able to go in there and prepare."
Jeff Kolpack
SPORTSWRITER, Inforum
To read on the Inform site, visit: Inforum Indoor Practice Facility Article
---

CONTACT:
Crawford Architects
1801 McGee Street Suite 200
Kansas City, MO 64108
Dakota Miller Zinn
dmillerzinn@crawford-usa.com