International Women's Day with Coach Char Morett-Curtiss:  Episode #1- Be Bold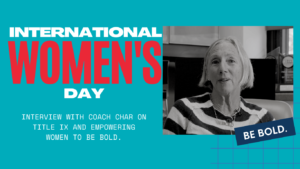 "Coach Char" Shares Her Powerful Journey
Crawford sat down with three-time first-team All-American, US Olympian medalist, and Penn State Women's Field Hockey Head Coach, Charlene Morett-Curtiss, prior to her retirement this year, to learn more about her inspiring journey.
Today, on International Women's Day, we are proud to share with you episode #1 of a five-part series.
In this episode, Coach Char discusses Title IX; how far it has come, how it has impacted women athletes, and the work that still needs to be done. She ends the video with advice on overcoming adversity and challenges women to be bold in the pursuit of what they want.
Watch the 4-minute episode below:
Video shot by Sean Murphy and edited by Dakota Miller Zinn.
Title IX Celebrates 50 Years
On June 25, 2022, we celebrated 50 years since Title IX of the Education Amendments Act of 1972 was passed. Title IX, along with other equity laws, helped to unlock access to educational and athletic opportunities, paving the way for inroads into historically male-dominated professions.
"No person in the United States shall, on the basis of sex, be excluded from participation in, be denied the benefits of, or be subjected to discrimination under any education program or activity receiving federal financial assistance."
Major Advancements Title IX has Seen Over the Last 50 Years:
College-Level Female athletes grew significantly from 29,977 in 1972 to 215,487 competing on teams sponsored by NCAA institutions in 2020-21.
The percentage of women athletes competing on college teams has risen from 15% in 1972 to 44% during the 2020-21 academic year.
At the high school level, dramatic increases have been seen in participation opportunities, rising from 294,015 in 1972 to 3,402,733 in 2018-19, (the most recent reporting year).
*Stats provided by The Women's Sports Foundation.

Penn State Women's Field Hockey Stadium
The Next Generation of Women's Sports Facilities at Penn State
A true reflection of Penn State's commitment to women's athletics has begun with the groundbreaking of the new field hockey complex as of October 2022. The complex, which is located adjacent to Bigler Field, is the team's first stadium with on-site facilities.
Crawford Architects' design includes 1,200 field permanent chair-back and bench seating options, public restrooms, home, and visitor meeting rooms and restrooms, areas for the broadcast and writing media, spaces for coaches, a large hospital room that overlooks the field, upgraded lighting, site amenities, and a dedicated garden to their hall-of-fame Coach, Char Morett-Curtiss.
###
Crawford Media CONTACT:
Crawford Architects
1801 McGee Street Suite 200
Kansas City, MO 64108
Dakota Miller Zinn
Dmillerzinn@crawford-usa.com