FOR IMMEDIATE RELEASE:
Crawford Architects and Fuego FC Announce Partnership
FRESNO, CA – Central Valley Fuego FC announced they have partnered with award-winning international planning, architecture, and interior design firm, Crawford Architects, to build the future of Fuego FC.
"It is truly an honor to have Crawford join forces with the Club in our efforts to bring world-class facilities to the Central Valley. Their expertise in bringing these types of projects from idea to reality is invaluable and their track record speaks for itself," said managing partner Gerardo Ruelas. "We hope to soon share some of the exciting developments surrounding our stadium and training facilities and the plans we have moving forward as the club continues to grow."
Fuego FC has plans to build soccer-specific training facilities throughout the Central Valley as a part of their larger strategy to see the Central Valley become a center for the sport. More details will be released in the future. The Club is very excited to be partnering with Crawford, a leader in live-work-play developments, to help build the future of soccer in our region.
"This is an exciting partnership for team Crawford. It's great to work with an organization that wants to improve its team facilities and truly cares about giving back to its community," said James Franklin, Associate Principal, Crawford Architects. "In addition to meeting the needs of the Fuego FC team, this project will be an asset for Central Valley soccer fans of all ages."
The development is anticipated to include amenities that will provide a much-needed soccer-specific atmosphere for the Central Valley.
Central Valley announced the partnership to its fans at the home game on Saturday, August 20th, during half-time. Fuego FC's Managing Club Partner, Gerardo Ruelas, and VP of FÚTBOL, Nehemias Blanco, presented Crawford's Director of Business Development, Gerry Rodrigues, and Associate Principal, James Franklin, with a game ball and signed jerseys to solidify the announcement.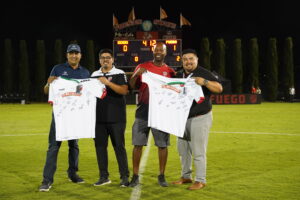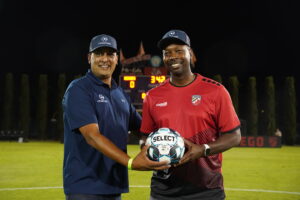 Link to official press release here.
---
About Central Valley Fuego FC
Central Valley Fuego FC is a professional soccer club in USL League One. The club kicked off its inaugural season in 2022 and will play all home matches at Fresno State Soccer Stadium. To learn more about the Club visit: www.fuegofc.com
About Crawford Architects
Crawford Architects is an award-winning international planning, architecture, and interior design firm with three out-of-its-six offices based in California (San Diego and San Francisco). As a professional services firm, Crawford Architects specializes in all aspects of the planning and design of stadiums, arenas, athletic training centers, sports medicine facilities, entertainment venues, lifestyle & workplace facilities, and the mixed-use developments which accompany these projects. For more info on Crawford visit: www.crawfordarch.com
---

CONTACT:
Crawford Architects
1801 McGee Street Suite 200
Kansas City, MO 64108
Dakota Miller Zinn
dmillerzinn@crawford-usa.com