FOR IMMEDIATE RELEASE:
Ryan Companies + Crawford Architects to Design and Build Lee and Penny Anderson Arena at University of St. Thomas
The arena will bring hockey onto the university's campus for the first time with its recent transition to Division I athletics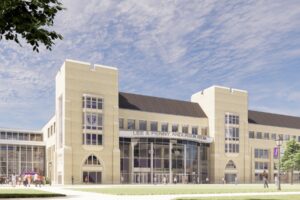 SAINT PAUL, Minn. (Jan.19, 2023) – Ryan Companies US, Inc. today announces that it has been selected as the design-builder, in partnership with Crawford Architects, for the Lee and Penny Anderson Arena at University of St. Thomas. With a 15-year history of more than 30 projects with the university, Ryan is committed to delivering a facility that encompasses the school's rich history while showcasing its bright future in Division I athletics.
"We're proud of our longstanding relationship with the University of St. Thomas and are absolutely thrilled to partner with Crawford to bring a multi-purpose arena onto its campus," said Eric Engh, senior vice president of construction, Ryan Companies. "When we take on a project, we consider the impact it will have now and in the future. We instantly knew that the Lee and Penny Anderson Arena would bring lasting value to the campus and surrounding community."
Ryan A+E, Inc., the design studio of Ryan, and Crawford Architects will collaborate to design the multi-purpose arena and practice facilities which will serve as the new home for the school's men's and women's hockey and basketball programs. The new arena complex will play a pivotal role in the St. Thomas' ongoing transition to NCAA Division I athletics while providing competition and training facilities for men's and women's athletics plus commencement ceremonies, academic convocations, conferences, career fairs, and other events for the university and broader community.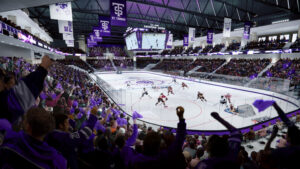 Preliminary design concepts envision seating configurations that accommodate quick conversions between various athletic and university events. Spectators will be on top of the action as intimate seating and balconies will create an exclusive home-team advantage that will enhance the game-day experience for players and fans alike. On the outside, the design will represent an intersection of the school's collegiate Gothic architecture and a more modern aesthetic. LEED Silver certification will be pursued, which is a globally recognized symbol of sustainability achievement.
"We are honored by this selection and look forward to collaborating with Ryan and the University of St. Thomas to design and build this transformational project," said David Murphy, owner and senior principal, Crawford Architects. "Along with Ryan, Crawford Architects welcomes the challenge to create this iconic, 'new-era' arena complex that will become a legacy for generations of Tommies to come."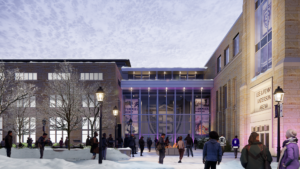 Joining the Ryan | Crawford team, Meyer Borgman Johnson will provide structural engineering and IMEG Engineers will provide mechanical, electrical and plumbing (MEP) engineering. The project is expected to employ 400 – 550 trade professionals for the duration of construction. St. Thomas expects to break ground in 2024, with a target opening in fall 2025.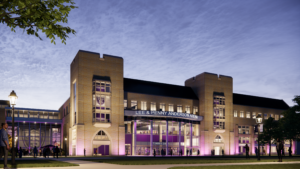 "St. Thomas has been evolving from small Catholic liberal arts college to a comprehensive national Catholic university, and the Lee and Penny Anderson Arena will be a powerful engine for that journey," said St. Thomas President Rob Vischer. "We have worked with Ryan Companies on many projects over the years, and they always come through. On this arena project, which is so vital to our university's future, we are proud to be partnering with Ryan once again."
The University of St. Thomas recently announced that it received a $75 million gift from Lee and Penny Anderson of Naples, Fla. for the arena. The donation is the single largest monetary gift ever given to a Minnesota university. St Thomas made history as the first Division III institution in the modern NCAA to transition directly to Division I.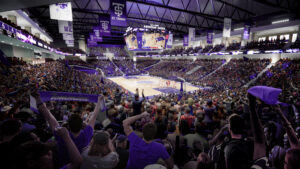 For renderings of the Lee and Penny Anderson Arena, click here.
About Ryan Companies US, Inc.
Founded in 1938, Ryan Companies offers comprehensive commercial real estate services as a national developer, designer, builder, capital markets advisor and real estate manager with a focus on creating places for people to thrive. Ryan work spans a wide range of sectors and product types including healthcare, hospitality, industrial, mixed-use, multifamily, office, retail, and senior living. Built on the foundation of integrity, honesty and community, Ryan has grown to more than 2,000 team members in 17 offices and has completed projects in nearly every state. For more information, visit ryancompanies.com.
About Crawford Architects
Crawford Architects is an award-winning international planning, architecture, and interior design firm headquartered in Kansas City. As a professional services firm, Crawford Architects specializes in all aspects of the planning and design of multipurpose arenas, stadiums, athletic training centers, sports medicine facilities, entertainment venues, lifestyle & workplace facilities, and the mixed-use developments which accompany these projects. Learn more at crawfordarch.com.
###
Crawford Architects
1801 McGee Street Suite 200
Kansas City, MO 64108
Dakota Miller Zinn
dmillerzinn@crawford-usa.com