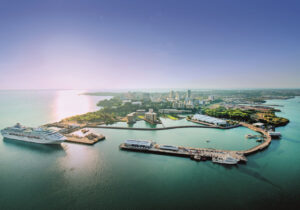 LOS ANGELES–(BUSINESS WIRE)–Mar 31, 2022–
ASM Global's Darwin Convention Centre —the centerpiece of the much-heralded Darwin Waterfront Precinct that is one of Australia's most popular tourist areas—has been awarded the top honor as that nation's finest Business Events Venue. Located in the Northern Territory, the centre features panoramic views of Darwin Harbour in a tropical yet modern city setting that is within walking distance of five-star hotels and resorts and some of Australia's best restaurants.
Arial view of Darwin Convention Centre, Australia (Photo: Business Wire)
First established by the federal government in 1985, the Australian Tourism Awards are the tourism industry's most important awards, recognizing and promoting excellence in tourism in the country. The Australian Tourism Industry Council owns and manages the program, which is overseen by Ernst and Young. The auditing firm provides professional and qualified services and acts in an independent capacity to review judging decisions by a 24-person panel that comprises a cross section of tourism-industry experts, selected for their knowledge and experience. A wide and diverse range of thousands of tourism businesses enter their state and territory Tourism Awards, which only 200 become finalists. A full list of winners can be found here.
Harvey Lister, ASM Global chairman and CEO of ASM's Asia-Pacific region, said, "Despite conditions that disrupted major conventions across Australia, we worked closely with ASM Global facilities management to enable significant refurbishments to the centre. And in periods of reopening, where border and capacity restrictions were enforced, we were able to win the confidence of the local government health department by demonstrating the adoption of VenueShield, ASM Global's proactive response to the COVID-19 pandemic. We also worked with businesses and the community to stage safe and vibrant local events contributing to the early recovery process."
While many other venues were shuttered in 2021, DCC hosted a record-breaking number of delegates for the 2021 Northern Australia Food Futures Conference in May, the General Practice Training and Education Conference in September and Compass 2021 in November.
Featuring one of the most unique convention center architectural designs on earth, the building was constructed in 2008 to celebrate the exotic and unique differences that the tropical climate, history, culture and proximity to Asia have "carved into the fabric and life of Darwin."
The resulting award-winning design features an outer facade resembling a stingray with natural light-filled foyers and harbor views. It is now part of ASM Global's world's largest and most diverse network of premier convention and trade show venues for millions of exhibitors and attendees across an extensive worldwide footprint that spans five continents.
View the full release here: https://www.businesswire.com/news/home/20220330005928/en/